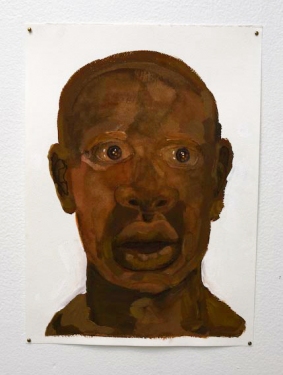 NYU MA Thesis Exhibition
NYU MA Thesis Exhibition, on view at 80WSE Gallery, New York, July 28th-August 7th, 2009

I created an installation including 22 objects: Drawings, photographs, found assemblage, and one large painting. "Sweating Honey"
---

Sinner/Saint (Friends & Lovers)
Sinner/Saint, is my contemporary reinterpretation of saints as originally portrayed by artists during the Italian Renaissance, particularly, Caravaggio and Tiepolo. Each subject is a friend of mine and has posed, undirected, becoming someone/something to be adored.
---

Le Lacrime (The Tears)
---

I Cassonetti (Dumpster Landscape)
I Cassonetti=The Dumpsters, Florence, Italy: painted on-location in an attempt to look beyond the marble sculptures at what can be construed as contemporary/functional sculpture.
---

Being Seen, New York (After Sartre)
"Being Seen, New York", is a reaction to the paintings that I initiated while in Venice, Summer '07. The current portraits are based on photographs I took on the streets of New York City. Each painting has been paired with an object. The object is something that he/she may or may not own, and could be a hint into a personality that to me, is a mystery.
---

Being Seen: Venice, Italy (After Sartre)
Being Seen is a series that I started in Venice, Italy, Summer 2007. The title is a direct reference to a quote from John Paul Sartre's Orphie Noire (Black Orpheus, 1948), in excerpt: "...When these black heads that our fathers forced to bow down looked up, did you think you would read adoration in their eyes? Here are black men standing before us and I hope that you, like me, feel the shock of being seen." The quote was used at the start of the manifesto of curator Simon Njami, African Pavilion. It spoke to me while in Venice, as a foreigner trying to look beyond the weathered surface and be aware of those, like myself in transit.
---
A record of an event: San Gerolamo/Saint Jerome. Featuring my friend Alessandro, and myself in Pisa, Italy.